Publicado em 18 Nov, 2016 às 15h08
Artistas, intelectuais e entidades internacionais condenam invasão policial à Escola Nacional Florestan Fernandes. Mais de 90 organizações e personalidades repudiaram ação na escola do MST no último dia 4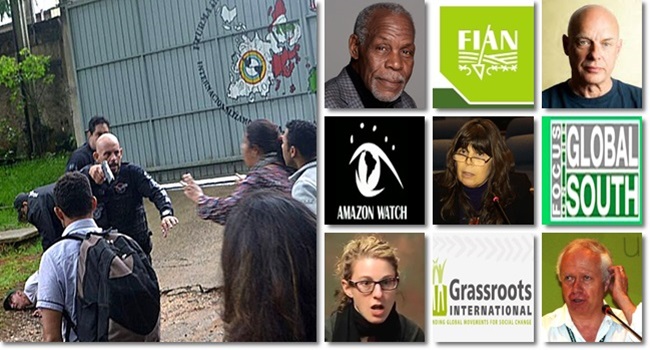 Entidades internacionais condenam invasão policial à ENFF(Montagem: Pragmatismo Político)
Em carta divulgada nesta terça-feira (16/11), artistas, intelectuais e entidades internacionais repudiaram a ação da polícia na Escola Nacional Florestan Fernandes, centro de formação do MST (Movimento dos Trabalhadores Rurais Sem Terra), no dia 4 de novembro, quando agentes da Polícia Civil do Paraná e da Polícia Militar de São Paulo invadiram a escola sem mandado judicial.
Mais de 50 entidades internacionais, além de artistas e intelectuais como a atriz Camila Pitanga e os atores Wagner Moura e Danny Glover, assinaram a nota, publicada pelo escritor e jornalista Fernando Morais em seu perfil no Facebook, contra a criminalização do MST e a invasão da ENFF.
"Centenas de intelectuais, professores e artistas brasileiros e internacionais contribuem regularmente com a escola, com palestras, cursos e materiais didáticos. A escola representa um símbolo de solidariedade aos movimentos rurais no Brasil, que defendem a democratização da educação e da terra", diz a publicação.
"É preciso defender o direito fundamental de manifestação das organizações sociais e condenar a repressão contra integrantes do MST", afirma a nota. "A defesa do direito à terra está prevista na Constituição brasileira como um dos principais pilares da democracia", conclui.
Saiba mais:
Wagner Moura comenta invasão da PM à escola do MST sem mandado judicial
Já vivemos num Estado de Exceção e já estamos num regime fascista
Sem mandado de busca e apreensão, agentes da Polícia Civil do Paraná e da Polícia Militar de São Paulo cercaram e invadiram a escola, que fica em Guararema (SP), por volta das 09h25 do dia 4 de novembro. Segundo relatos de testemunhas, o cerco foi feito por 10 viaturas e os policiais não estavam identificados. Eles pularam a janela da recepção dando tiros para o ar. Os estilhaços, que acertaram uma mulher, eram de balas letais e não de borracha.
"A ação brutal e fora da ordem judicial faz parte de uma operação contra o Movimento em três estados – Paraná, Mato Grosso do Sul e São Paulo", afirmou a nota – outra operação policial no Paraná no mesmo dia prendeu seis integrantes do MST.
Segundo o MST, os presos em São Paulo foram a cantora Gladys Cristina de Oliveira e o bilbiotecário Ronaldo Valença Hernandes, de 64 anos.
O MST divulgou uma nota em seu site em que "repudia a ação da polícia de São Paulo e exige que o governo e as instituições competentes tomem as medidas cabíveis nesse processo. Somos um Movimento que luta pela democratização do acesso a terra no país e não uma organização criminosa", afirmou.
Leia também:
Dilma Rousseff envia mensagem aos estudantes das ocupações
Michel Temer ataca ocupações de escolas e ironiza estudantes
Rede Globo criminaliza ocupação das escolas no Brasil
Educação vai perder R$ 58 bilhões se for aprovada a PEC 241
Michel Temer orienta a maior ofensiva ambiental desde a ditadura militar
Privatização de 25 parques públicos é aprovada em São Paulo
Assinam:
Indivíduos:
Danny Glover, filmmaker and activist (USA)
Wagner Moura, actor (Brazil)
Camila Pitanga, actress (Brazil)
Dira Paes, actress (Brazil)
Brian Eno, musician and composer (UK)
Sílvia Buarque, actress (Brazil)
Osmar Prado, actor (Brazil)
Paulo Betti, actor (Brazil)
Cristina Pereira, actress (Brazil)
David Miranda, journalist and city councilman (Brazil)
James Early, former director of Cultural Heritage Policy at the Center for Folklife and Cultural Heritage at the Smithsonian Institution (US)
Pat Mooney, author and recipient of the Right Livelihood Award (Canada)
Gary Prevost, political science professor at St. John's University (USA)
Miguel Tinker Salas, professor of Latin American History, Pomona College (USA)
Silvia Ribeiro, Latin America director of ETC Group (Mexico)
Nicole Fabricant, Associate Professor of Anthropology, Towson University
Jorge Varela Marquez, Premio Goldman 1999
Harry E. Vanden, Professor, University of South Florida
Robert Austin, Visiting Scholar, Centre for Peace & Conflict Studies, The University of Sydney
Fernando Morais, author and journalist (Brazil)
Nora Hamilton, Professor of Political Science, USC
Clara E. Irazábal-Zurita, Professor of Urban Planning, University of Missouri
Julie A. Charlip, Professor, Latin American History, Whitman College
Gary Prevost, College of St. Benedict/St. John's University
Cecilia Santos, University of San Francisco and Center for Social Studies at University of Coimbra
Monica Dias Martins, Professor, UECE
Richard Stahler-Sholk, Eastern Michigan University
Miguel Tinker Salas, Professor of Latin American History, Pomona College
Hilbourne A. Watson, Department of International Relations, Professor Emeritus, Bucknell University
Ilene Frank, Professor emerita, Tampa Library, University of South Florida
Dale Leonard Johnson, Professor, Heredia Costa Rica
Bernardo Ricupero, Professor of Political Science, USP
Nora Hamilton, Professor of Political Science, USC
Kevin A. Young, Assistant Professor of History, University of Massachusetts Amherst
Jan Rus, Centro de Estudios Superiores de México y Centroamérica, Chiapas, MEXICO
Alexander Main, senior associate at Center for Economic and Policy Research, USA
Organizações:
Grassroots International
Development and Peace
Amazon Watch
FIAN Brazil and FIAN International
Friends of the Earth, US
Maryknoll Office for Global Concerns
Transnational Institute (TNI), Holland
Climate Justice Alliance, USA
Food First
Focus on the Global South, Thailand and Philippines
Asian Pacific Environmental Network, USA
Other Worlds
Family Farm Defenders, USA
Ambiente, Desarrollo y Capacitacion, Honduras
Asociación de pescadores de Pequeña Escala de Cedeno, Honduras
Center for the Study of the Americas (CENSA), Berkeley, CA
ETC group International
GRAIN, Canada
Movimento Mundial pelas Florestas Tropicas
Rede de Pesquisa Observatório das Nacionalidades
Grassroots Global Justice Alliance
Indian Social Action Forum (INSAF), India
India Union of Forest Working People AIUFWP
Jamaa Resource Initiatives, Kenya
National Family Farm Coalition, USA
Peoples Architecture Commonweal, India
Rede de Pesquisa Observatório das Nacionalidades (UECE)
Social Action for Change (SAC), Cambodia
Project South, USA
Society for International Development (SID)
Solidarity for Sustainable North East, India
Solidarity Sweden – Latin America
The Corner House, UK
Women Lanka Network, Sri Lanka
WhyHunger, USA
Black Mesa Water Coalition, USA
FIAN Sweden
FIAN Germany
Movement Generation, USA
Chicago Alliance Against Racist and Political Repression, USA
The Alberto Lovera Bolivarian Circle of New York
Cooperation Jackson, USA
Farmworker Association of Florida, USA
UPROSE, USA
Brazilian Women's Group, USA
Community Alliance for Global Justice
Indigenous Environmental Network
Rising Tide North America
Ironbound Community Corporation, USA
Brazilian Expats for Democracy and Social Justice, USA
The Kairos Center for Religions, Rights and Social Justice at Union Theological Seminary, USA
Stone Soup Worcester, USA
US Global Village Farms
Southwest Workers Union, USA
The Ruckus Society
International Campaign to STOP Genetically Engineered Trees
Institute for Agriculture and Trade Policy
The Transnational Institute
Women's International League for Peace & Freedom US Section
US Friends of MST
Iowa Citizens for Community Improvement, USA
Community to Community, USA
Northeast Organic Farming Assoc. of New York, Inc.